The most prolific 12 months for worldwide deal making in history, 2015 will be remembered by record levels of M&A activity in the United States and Asia Pacific and rapidly consolidating industries ranging from Healthcare and Energy & Power to Technology and Industrials.
"Companies are looking for revenue growth, they're also looking to streamline and get rid of businesses that are non-core. And while valuations are higher than they've been compared to previous years, some argue that because there is so much strategic M&A going on right now, the valuations are justified, " according to Matthew Toole, director, Deals Intelligence, Thomson Reuters.
Proliferation of the "mega deal"
Worldwide deal making totaled $4.7 trillion during 2015, an increase of 42 percent compared to 2014 and the strongest annual period for merger activity since records began in 1980. For the first time ever, three consecutive quarters surpassed $1 trillion dollar quarters for announced M&A in 2015, powered by the top three all-time months for global M&A activity – November 2015 ($611.2 billion), October 2015 ($548.5 billion) and June 2015 ($530.1 billion).
One hundred and forty one deals over $5 billion accounted for 51 percent of overall M&A value, the highest percentage and number of mega deals on record. Royal Dutch Shell's $81 billion bid for the United Kingdom's BG Group in April kicked off the string of transformative consolidations across multiple sectors.
Total value and number of deals worldwide by year (1996 – 2015)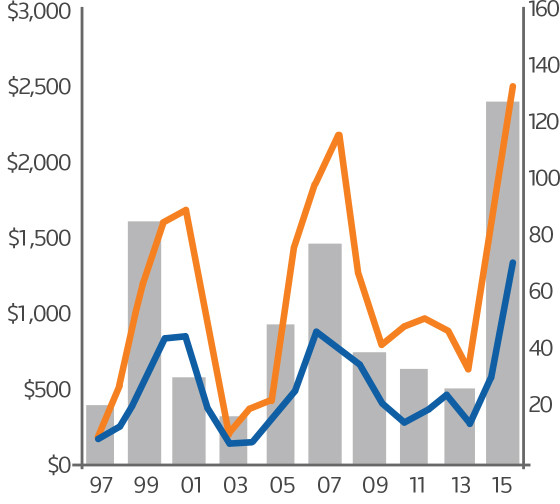 Deals over $5bn ($bil)
Number of deals over $5bn
Number of deals over $10bn
2015 top worldwide announced M&A advisors by transaction size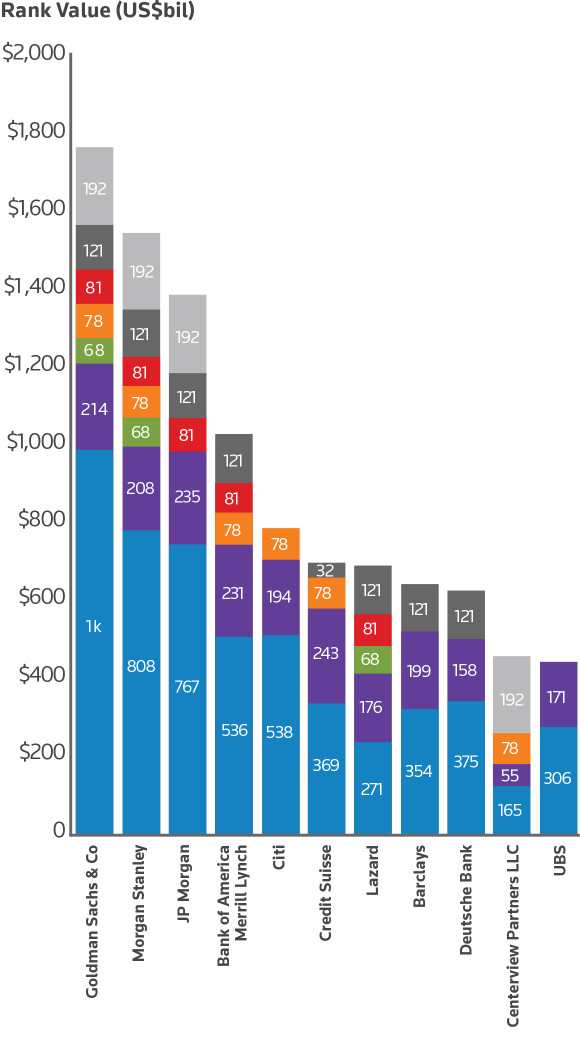 Allergan PLC/Pfizer inc
SABMILLER PLC/Anheuser-Busch Inc
BG Group PLC/Royal Dutch Shell
Time Warner Cable/Charter Communications
DuPont/The Dow Chemical Co
Other top 15 deals
All other transactions
In fact, four deals announced in 2015 have earned a spot on the all-time top 20 list, with Charter Communications making a second attempt to purchase Time Warner Cable for $78.4 billion in March, Anheuser-Busch InBev's bid for SABMiller for $120.8 billion in October and Pfizer's $191.6 billion offer for Allergan PLC, which ranks as the second largest announced deal over the past 30 years.
M&A growth across all regions
Every major region saw year-over-year M&A growth during 2015, with the United States and Asia Pacific accounting for a combined 74 percent total deal-making activity and surpassing all full-year records for M&A activity in the regions. European M&A totaled $907.5 billion, an 8 percent increase compared to a year ago and the strongest period for M&A in Europe since 2008. Japan and Africa/Middle East accounted for nearly 4 percent of worldwide deals in 2015, on par with a year ago.
Read more in Thomson Reuters Exchange Magazine
Learn more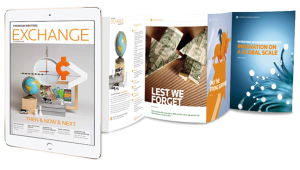 Thomson Reuters Exchange Magazine