Have you heard of Opdivo, Praluent or LCZ696? Compared with 2014, there are more big drug introductions expected in the market during 2015. The majority of them are forecast to have 2019 sales between $1 billion and $3 billion, although these three drugs are set to exceed even this bar.
For the last several years, Cortellis™ Competitive Intelligence has performed in-depth research on the biggest and most significant drugs entering the market each year – the so-called "blockbusters." To achieve blockbuster status, a drug must be likely to hit $1 billion in sales within its first five years.
Probability of success to market for active substance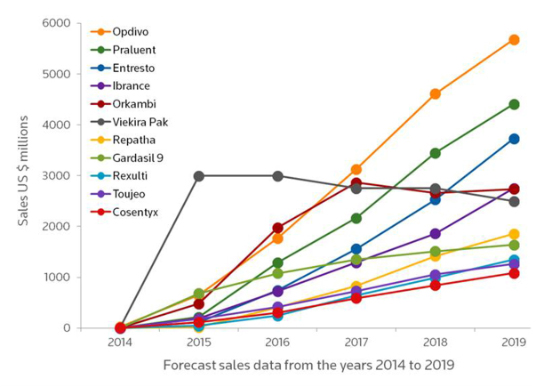 Bristol-Myers Squibb (BMS) and Ono Pharmaceutical's melanoma drug Opdivo (nivolumab) at $5.684 billion
Regeneron Pharmaceuticals and Sanofi's Praluent (alirocumab) for hypercholesterolemia at $4.414 billion
Novartis' LCZ696 (sacubitril and valsartan) for chronic heart failure at $3.731 billion
This year's other predicted blockbuster entrants (and their 2019 sales forecasts) are:
Pfizer's Ibrance (palbociclib) for breast cancer ($2.756 billion)
Vertex Pharmaceutical's lumacaftor plus ivacaftor for cystic fibrosis ($2.737 billion)
AbbVie's Viekira Pak (veruprevir, ritonavir, ombitasvir and dasabuvir) for HCV ($2.500 billion)
Amgen and Astellas Pharma's evolocumab for hypercholesterolemia/hyperlipidemia ($1.862 billion)
Merck & Co.'s Gardasil 9 vaccine against human papillomavirus (HPV) infection ($1.637 billion)
Otsuka Pharmaceutical and Lundbeck's brexpiprazole for schizophrenia and depression ($1.353 billion)
Sanofi's Toujeo (new-formulation insulin glargine) for diabetes ($1.265 billion)
Novartis' Cosentyx (secukinumab) for psoriasis and psoriatic arthritis ($1.082 billion)
As the pharmaceutical industry navigates constantly evolving revenue streams, this report serves as a valuable resource for identifying the therapies with the strongest sales potential.
Read more about the 2015 Drugs to Watch