You could fly to Rio de Janeiro in August, purchase one of the 7.5 million tickets expected to go on sale (at prices ranging from $10 to $1,200) for the 306 competitions covering 42 different sports. Then dash from venue to venue over the 17-day span and hope you miss nothing important.
The better answer: To guarantee you get the best seat in the house – every venue, every day – you need go no further than reuters.com. You'll see all the moments, big and small: the drama, the victories, the defeats, the interviews, the sheer athletic prowess, on full display as only the world's most trusted news organization can deliver.
The sights, sounds, stories of history being made
Brazil is the first-ever South American country to host the games. Make sure you have a front-row view of the stories and images that are certain to become part of the Olympic legend, with these Reuters exclusives:
Speed: We deliver text and articles using the same systems that power our financial business, where milliseconds matter. Photos are delivered through a proprietary remote publishing platform that runs from camera to wire. This platform has led the way among our competitors for years.
Exclusive access: Reuters is one of four members of the International Olympic Committee (IOC) Media Pool – the highest level of accreditation possible. It gives us the best access, positioning and content as a result. Reuters will also have a pop-up newsroom at the games.
Local presence: We've been operating in Rio for over 100 years. Our work on the World Cup in 2014 is a great illustration of our capabilities there. Additionally, Reuters Bureau and TV Studio are being upgraded in time for the games. All bolstered by our well-established network of local relationships.
Powerful partnerships: Reuters has an exclusive relationship and partnership with Infostrada, the official data provider of the IOC.
Ahead with the news:
No other news organization is more synonymous with in-depth, unbiased, engaging Olympic coverage than Reuters. We were in Athens for the first modern Olympics in 1896, and we will be in Rio in full force this August, with complete multimedia presence: text, pictures, online video, broadcast video, graphics, data.
Read more at Reuters.com
Learn more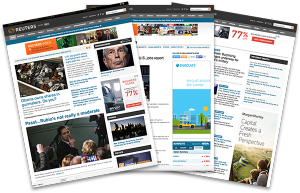 Reuters.com