Clinton? Trump? Sanders? Cruz? Kasich? It began as a big field this election year and even the most seasoned pundit cannot answer that question.
Our poll proved to be the most accurate national poll of US residents published immediately before the last presidential election.
The Reuters poll was stellar in 2012; 2016 will be even better.
We've made continuous improvements and refinements to the Reuters/Ipsos poll, so it's even more accurate. This poll is already unique in that it uses continuous online surveys – not telephone interviews – of 2,000 to 3,000 people every week, allowing us to collect far more data, see sentiments evolve over time and be more flexible and fast-moving than phone research.
Reuters and SAP have formed a partnership to bring election insights and news to the public more quickly and efficiently. Our revamped Polling Explorer site now uses SAP HANA technology to enable faster processing and analysis of millions of survey responses, not just about the US election, but also across business, current affairs and social issues.
The relaunch of the Reuters Polling Explorer gives you the ability to drill down into poll data and reveal fresh insights. Our experts mine the troves of polling results to surface and connect relevant data points across a variety of social, political, gender, age and cultural demographics. The results are presented through interactive charts allowing you to fully appreciate and use the information.
Reuters editors will also deliver special features that will take a deeper look at the real people behind the polls – identifying the key demographics that inform the dominant issues and decide the fate of the candidates.
Read more at Reuters Polling Explorer
Learn more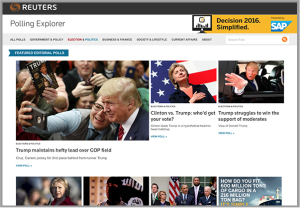 Reuters Polling Explorer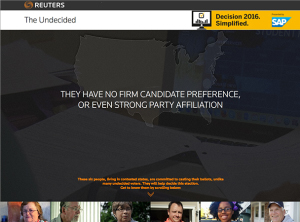 Reuters The Undecided