According to the Reuters Breakingviews Predictions 2016: The UK exits the EU. The Fed raises rates again. Cheap batteries disrupt the energy grid as we know it. Oil hits $80 a barrel. M&As decline in the US. The "Star Wars" juggernaut leads to Disney tripling its $4 billion purchase of Lucasfilm. Shale is out; renewables are in.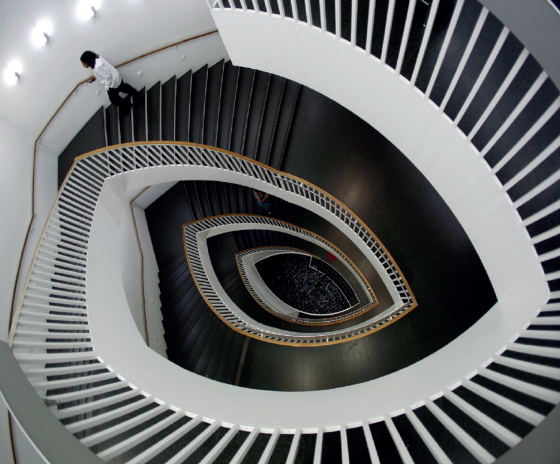 While no one has a crystal ball, Reuters Breakingviews annual predictions report is a good place to start. This year's collection of expert prognostication, titled "Stairway to Heaven, Highway to Hell" and carrying a rock 'n' roll theme throughout, gives readers a jump on the year ahead, with in-depth predictions in the worlds of finance, politics, entertainment, sports and more.
If the past is any indication, many of this year's 38 predictions will be dead on. A year ago Breakingviews forecast that Deutsche Bank would oust its leaders and accounting fraud would become a top regulatory priority. But they also called for oil at $80 a barrel and a cooling mergers & acquisitions market. Right or wrong, the goal is to offer intelligent and provocative ideas and opinions.
Among Breakingviews' 2016 predictions:
Europe's least bad option: dismantle Schengen, the 26-country free border zone.
Superheroes of central banking will be cut down to size as they encounter their kryptonite: consumer prices.
Quarterly reporting to get a major rethink, as both investors and managers of publicly traded companies see a fundamental flaw in today's requirement to report every three months.
Global smartphone brands face mass extinction – the industry's growth rate dipped below 10 percent this year and loss-making brands from HTC to Sony may be forced out.
The new White House chief faces a recession – more than just a nice desk in the Oval Office awaits the next US president.
The Uberization of finance will prove elusive – nothing scares banking executives like the notion that some millennial whiz kid from Silicon Valley will disrupt the industry, but their other biggest worry is also their greatest protection: regulation.
The rise of the unicorns
Private tech companies valued at more than $10 billion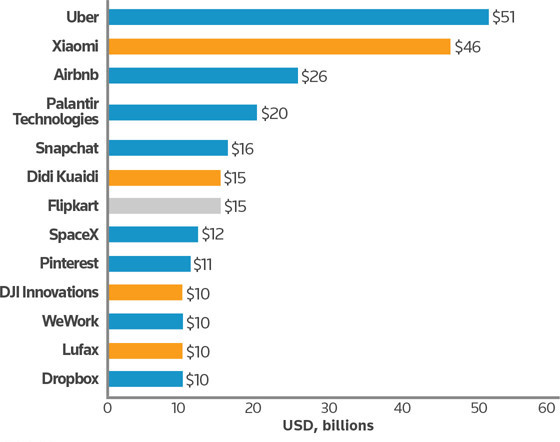 Source: CB Insights. REUTERS/Robyn Mak
China to overtake US in carbon emissions
China's cumulative greenhouse gas emissions since 1990 are set to overtake those of the United States, making China the top contributor to modern global warming.
Cumulative emissions by top contributors in billion tonnes of carbon dioxide equivalent:
With no future carbon policies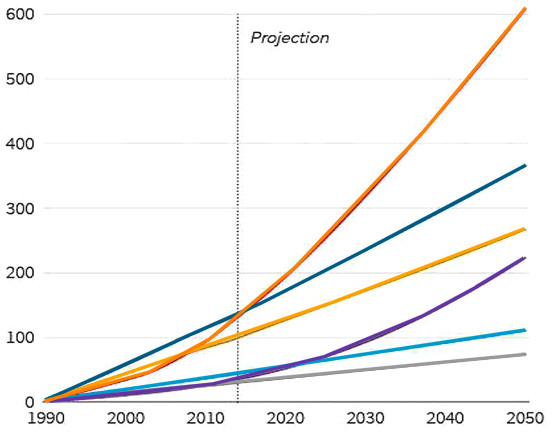 With strict curbs on carbon emissions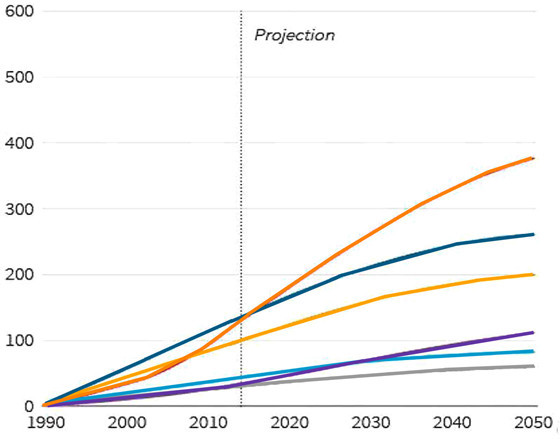 Source: Thomson Reuters Datastream and Center for International Climage and Environmental Research. REUTERS/C. Inton
Read more about Reuters Breakingviews Predictions 2016
Learn more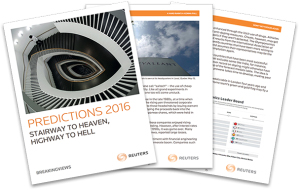 Reuters Breakingviews Predictions 2016